Profile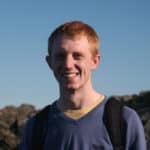 Andrew Beale
My CV
Education

Lancaster Royal Grammar School, then Cambridge University and then UCL for a PhD

Qualifications

GCSEs and A-levels, Undergrad degree in Natural Sciences and a PhD

Work History

I did a PhD, then worked as an Explainer at the Science Museum (London) and on the Christmas Lectures (on BBC4) at the Royal Institution, then I moved to Mozambique in Africa for three years where I helped on a water and sanitation project as well as taught a short course at a small university, then I moved by to the UK and was back into research – first as a bio statistician, then into labs.

Current Job

Employer

MRC Laboratory of Molecular Biology
About Me:

I'm a scientist, a dad, and a husband. I enjoy finding out new things – I suppose that's why I'm a scientist! I also love finding out new things about the world and people by discovering new places, trying new foods, and having long conversations with friends.

My Work:

I try to work out why we sleep at nighttime and are awake in the daytime. I use microscopes and very sensitive cameras to see how this happens by doing experiments with cells!

My Typical Day:

After I get to work on my bike, I first take my chemicals out of the fridge to warm up. Then I go and make sure that any experiments that are running overnight are still working – they sometimes crash! Then I get a coffee and look at the results of yesterday's experiments while I wait for equipment and chemicals to warm up. When everything is warm, I spend a couple of hours checking cells and setting up new experiments – things are always on the go! In the afternoon I usually do shorter jobs, like some of the steps to make new versions of genes that I can put into cells, or making new chemicals that I can use in my research. That bit is a bit like cooking – I follow lots of recipes!
My Interview

How would you describe yourself in 3 words?

fun, easygoing, thinker

What or who inspired you to follow your career?

My grandads – one grandad was a chemistry professor and used to show me his lab, the other was a real practical guy and built lots of things with me and brother when we were younger

What was your favourite subject at school?

Chemisty

What did you want to be after you left school?

David Attenborough!

Were you ever in trouble at school?

Once or twice, but only really because of forgetting things like homework.

If you weren't doing this job, what would you choose instead?

Campsite owner

Who is your favourite singer or band?

Coldplay

What's your favourite food?

Pizza

What is the most fun thing you've done?

Go karting - if I wasn't so tall I would have loved to have been a racing driver.

If you had 3 wishes for yourself what would they be? - be honest!

To be able to fly, to have clothes that washed themselves, and to have super-sight
My profile link:
https://ias.im/u.40531
---
---
---
---