Profile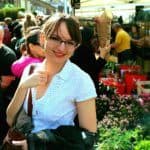 Melanie Krause
My CV
Education

Before doing my PhD in the UK my entire education happened in Germany. I went to school in my home town and when I graduated moved on to study for a BSc in Cell Biology in Osnabrueck and MSc in Biomedical Sciences in Bonn. I finished my Masters in 2015 and then went to University College London to study Cell Biology. I got my PhD in 2020 and then went to my current employer, the European Molecular Biology Laboratory (EMBL) as something called a post-doctoral fellow where I am also working in the lab. It is not really different from doing a PhD aside from the fact that you get paid a little bit more 😉

Qualifications

I finished middle school at 15, then got my permission to go to University at 19 and went on to study Biology: I have a BSc in Cell Biology, MSc in Biomedical Science and a PhD from University College London in Cell Biology of Infection and Virology

Work History

As a Bachelor student I worked part time as a Zoo educator.. that was a lot of fun because I got free entry to the Zoo and I could tell people about all the amazing animals and what we need to change to protect them in the wild.
I also did internships in different labs in Poland, South Africa and New Zealand during my BSc.
In my Masters I then briefly worked for the Pharma Company Bayer HealthCare in Berlin and now I work as a Scientist at UCL. Aside from that I write science articles for an online newsletter called BioNews from time to time.

Current Job

I am now at EMBL, an international European research institute where I work in the field of genomics. I am using genetic engineering to build a method that allows us to see thousands of different proteins at the same time. I want to use this to study viral infections. So when a new unknown virus comes along, we can hopefully figure out much more quickly what it does to cells.

Employer

I work at the EMBL. This is the Institute:
https://www.embl.org

We have a lot of different labs who study many aspects of Biology from the immune system, to genomics, to mechanics of how cells move or how lipids are composed. That makes for a really exciting environment and there is always something new to learn from other people!
About Me:

I am a scientist at the European Molecular Biology Laboratory (or short EMBL).  I am currently using CrispR gene editing to develop new tools to study infection by making proteins shine green. Outside of work (and when we are not in isolation) I love to travel and good out for a drink with my friends!

Read more

I live in a tiny apartment by myself. My boyfriend is South African and currently does a PhD in Switzerland.. as such we spend a lot of our free time and money on visiting each other. I have always been really interested in viruses and wanted to become a researcher who helps finding cures and vaccines for infectious diseases.
My favourite TV show was Game of Thrones before it was ruined by the terrible last two seasons but I also really liked Big Bang Theory and Breaking Bad. In my free time I like to meet friends, drawing landscapes and travel a lot.. but since travel has been restricted for a while now I am mainly at home reading books and watching YouTube.

I am also a writer for an online science magazine and involved in initiatives that attempt to reduce plastic waste in science.

My Work:

I study how viruses is infect cells and build new methods to visualise what the virus does to cellular proteins.

Read more

The virus I worked on in my PhD 'Vaccinia Virus' is actually the first virus that was ever used as a 'vaccine'.. that is also were the name comes from. As such it was used to completely eliminate Smallpox from the planet. Before we got rid of it the virus might have killed up to 500 million people… even pharaohs of ancient Egypt have been found to have had the virus (you can find some pox scars on mummies).

There are still a few other pox viruses in the world and some are dangerous to humans. So its important to better understand them. I studied how Vaccinia circumvents the immune system, in particular one aspect that is called 'autophagy'. In autophagy cells essentially eat pathogens within them up to make them no longer dangerous. It a very exciting part of the immune defence and very effective. But many viruses have found ways to 'trick' autophagy and still infect the cell… including vaccinia. I worked on finding out how vaccinia does it so we can better understand what viruses do to cells and maybe what we can do to prevent that.

Now I have moved to a different lab where I don't work with one specific virus anymore but I am building tools to understand infection better.

My Typical Day:

When I get to work I check my week plan for what I need to do that day. I first warm up all reagents I will need that are kept in the fridge. Then I might infect some cells with virus. While the infection is going on (usually for several hours).. I might do some microscopy for other experiments or I clone new CrispR tools I need for gene editing. After lunch I prepare new cells for experiments the next day. I also spend time in between with analysing data and reading about new research from other people.

Read more

Its difficult to say what I do in a typical day because the great thing about science is its always different: On Friday I make a plan about what I want to get done in the next week. You need to be very organised as a scientist!
I then group the tasks into blocks that I can get done each day. One experiment usually takes 3-5 days to complete. So depending on what is happening that day I am seeding cells, clone new DNA plasmids, extract DNA from bacteria, infect cells with viruses or look at cells under the microscope.
When there is some free time where I don't need to do lab work, I analyse data or I read new research from other people so I can learn new things other people in my field have found out. That way I might get new ideas for my own project… or I have a coffee break with my friends 🙂
My Interview

How would you describe yourself in 3 words?

Nerdy, outgoing, night owl (Yes I know thats 4 but how do you say in one word that you don't like getting up early?)

What or who inspired you to follow your career?

Growing up I didn't know anyone who was a Scientist.. but I read a book when I was maybe 8 in which they wrote about medicine and in it they said in 100 years we will have a cure for every disease we know today! Now I know that that won't be true but then I thought.. I want to be part of finding these cures!

What was your favourite subject at school?

Biology and History

What did you want to be after you left school?

A scientist in the medical field so it worked out quite well! :)

Were you ever in trouble at school?

In 8th grade or Geography teacher found a piece of paper with notes on it on the table during an exam and blamed it on me. It was actually the one of my desk neighbour but I didn't say anything so I got an F in the test. I worked really hard for the next one then and got a C as final mark so it wasn't too bad.

If you weren't doing this job, what would you choose instead?

Probably Journalism

Who is your favourite singer or band?

Mando Diao

What's your favourite food?

My moms homemade Cheesecake

What is the most fun thing you've done?

Traveling to South Africa and jumping from the highest commercial Bungee Jump in the world.

If you had 3 wishes for yourself what would they be? - be honest!

Especially at the moment that all of my family stays healthy! Then that one day I will make a really big discovery in the field I work in. And the last one I'll keep a secret!

Tell us a joke.

Do you know the mad hatters riddle from Alice in Wonderland: What does a Raven have in common with a desk? The answer is LAMP! A desk has a lamp on it but ravens.. like all animals have lamp proteins in them! Yes it is very nerdy but what did you expect? I'm a scientist!
My profile link:
https://ias.im/u.251790
---
---
---
---