Profile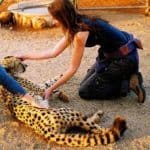 Nina Rzechorzek
Clinician scientist (neuroscience and brain disorders)
My CV
Education

Guildford County School (1995-2001), University of Edinburgh (BSc (Hons); 2001-2005), University of Cambridge (MA VetMB MRCVS; 2005-2010), University of Edinburgh (PhD, Residency in Veterinary Neurology & Neurosurgery; 2012-2018)

Qualifications

BSc (Hons) Physiology; MA (Veterinary Medicine); VetMB MRCVS (Veterinary Medicine); PhD (Molecular and Clinical Medicine); Board-eligible Specialist in Veterinary Neurology & Neurosurgery

Work History

Pre-2002 Part-time work on farms, in vet practices, zoos, kennels, stables, research labs, and in bars/hotels/supermarkets; 2002 Research Assistant, Australian outback; 2001-2003 Part-time Team Leader, and researcher for Apex 2, a medical research expedition at extreme altitude; 2001-2005 Part-time café barista, Edinburgh; 2002-2008 Vacation work, Neuropathology Department, Veterinary Laboratories Agency, Weybridge; 2005-2006 Temporary work as Client Relations Co-ordinator, MLP Private Finance, Birmingham and Edinburgh; 2008-2010 Part-time College Supervisor, Cambridge; 2010 Temporary Online Author, WikiVet, Royal Veterinary College, London; 2010-2012 Veterinary Surgeon, companion animal practice, Warwickshire; 2012-2018 Wellcome Clinical Fellow (PhD Student in Molecular and Clinical Medicine then specialist trainee in Veterinary Neurology & Neurosurgery), University of Edinburgh; 2018-2019 Postdoctoral Researcher, O'Neill Group, MRC Laboratory of Molecular Biology, Cambridge

Current Job

MRC Clinician Scientist Fellow (veterinary clinician and postdoctoral researcher), O'Neill Group

Employer
About Me:

My name is Nina, and I like neurons. I dislike pigtails and labcoats.

Read more

I'm half Scottish, half English, and have a (probably Polish) surname.  I love hillwalking and exploring new places (ideally without a map, although this has drawbacks).  I recently moved to Cambridge from Edinburgh.  Edinburgh is great for hillwalking but not so great for weather.  Cambridge is great for weather and rubbish for hillwalking.  You can't have everything.

I used to run an expedition society and was very lucky to travel to some exciting places for research and training (Australian outback, South Africa, and the highest lab in the world in Bolivia). I grew up with cats and would love to have a cat now but I move around and rent a lot so it's not really feasible—and vets make the worst pet owners!  If I were an animal though, it would have to be a Greenland shark so I could be at the top of the food chain and live for hundreds of years.

My favourite things are animals with attitude, stand-up comedians, sleep, coffee, time with friends and family, cinema and radio. I have high hopes of one day being able to dance properly (but for now I'll settle with embarrassing myself and others).  The best thing about engaging people with science is seeing the look in their eyes when they understand something for the first time (the 'aha' moment; it can change a life).  The best thing about vetting is that every patient teaches you something new (usually something you can't read in a textbook).  There's a very creative side to my personality; as a student this was used a lot for amateur dramatics, playing in a jazz band, and forcing members of my family to display my artwork.  Now I mainly use it to tell people about science!

My Work:

I'm trying to figure out how brain cells keep time in the face of dramatic temperature changes that happen in our brains on a daily basis… and every time our neurons fire!

Read more

Currently I work in the O'Neill lab, a super-fun group at the MRC Laboratory of Molecular Biology that studies circadian rhythms.   Circadian rhythms are (approximately) 24-hour cycles in biology observed across the three Domains of Life (Bacteria, Archaea and Eukaryota), and at every level—from cells to animal behaviour.

In humans and other animals, circadian rhythms result from daily timing mechanisms in every cell that together function like a biological clock, allowing our bodies to anticipate and prepare for the differing demands of day and night. Normally our biological clock is fine-tuned each day by external cues, particularly the timing of meals and light exposure. When we see bright light or eat at the wrong biological time (for example because of shift work, jet-lag, or staying up late to surf the net), it disrupts our biological clock and increases the risk of chronic illnesses such as diabetes, heart disease, cancer, and several brain disorders. It also has a huge impact on learning—you all know how tricky is to concentrate at school if you haven't slept well! On the other hand, some drugs and surgeries are potentially more effective at certain times of the day. Understanding the molecular basis of cellular timekeeping is therefore critical to understanding health, and taking advantage of cellular clock mechanisms may provide new insights into the prevention and treatment of many diseases.

During my PhD I learnt how make lots of different human brain cell types in a dish using stem cells and I explored at the molecular level how cooling could protect them from injury:

Now my research is focused on the mechanisms of daily timekeeping in brain cells, and in particular how brain cell clocks interact and deal with the temperature changes that occur naturally in the brain.  A defining feature of circadian rhythms is that they run at the same 'speed' across a range of physiological temperatures (it would be a disaster if your cellular clocks sped up every time you did some exercise, or slowed down when your body temperature drops during sleep).  Remarkably though, cellular clocks are synchronized by daily changes in body temperature—so how is it that they sense and respond to these temperature changes whilst keeping in time? This is even more baffling for the brain, where regional temperature changes occur with brain cell activity.  Two key questions that I am trying to answer are:

(1) How does the temperature of different brain regions vary by time of day?

(2) How do brain cell clocks keep time in the face of these dynamic changes in brain temperature?

For many brain disorders we have either poorly effective treatments, or no treatments at all—this is the case for both human and animal patients.  By returning from the clinic to the lab, I hope to make discoveries that can lead to better and more specific treatments for brain disorders in my patients and also their human owners!

My Typical Day:

Coffee, recording brain cell activity, coffee, watching cellular clocks glow in the dark, coffee, playing with protein, coffee, imaging brains with MRI

Read more

My work involves many different techniques, from imaging the brains of healthy volunteers in MRI scanners, to recording electrical activity 'round-the-clock' in brain cells in the lab, to working out how different proteins within these cells interact to keep brain cell clocks ticking robustly.  So that we can track how cellular clocks are behaving over time, we often 'tag' the clock by editing the DNA of the cells so that the instructions to make a part of the clock will at the same time make a light-emitting enzyme.  This enzyme is the same one that makes fireflies glow! Here are some videos of cellular circadian rhythms in action.

Most days I do a bit of 'cell TLC', that is, I make sure my cells are growing well in their dishes and feed them if they need it.  Brain cells need a lot of looking after so this can get quite tiring!  Each week we have a lab group meeting so we can discuss how everyone in the team is getting on and give each other ideas of how to make our experiments better.  Everyday there are lots of exciting talks happening in the institute, so there are plenty of chances to hear about many different kinds of research from people in other lab groups within the building, or from researchers from all over the world! This is a great way to pick up new techniques and perhaps apply them to something completely different. Lunch is very important—luckily our group is the closest to the canteen so we can be at the front of the queue.

Essential to all experiments is keeping a good record of exactly what you do and what you have found; if it's something really interesting you need to be able to repeat it to be sure it's true, likewise if the experiment has gone wrong because of an error, you don't want to waste time making the same mistake twice!  Sometimes, new discoveries are made when 'accidents' happen, and so it's just as important to document the bad stuff with the good…you never know what might be useful down the line…Because some of my experiments involve taking samples 'round-the-clock' I sometimes have to come into the lab late at night (I don't mind because that's when I'm most awake!); it's always a team effort though, so the 'morning larks' tend to do the early time points and the 'night owls' do the late nights.  Lots of time points means lots of data, so there's always plenty of data analysis to keep me busy and of course, as we go along, we all have to write about what we have found and publish it so that science keeps moving forward.
My Interview

How would you describe yourself in 3 words?

Caffeine-fuelled, cheeky, late

What or who inspired you to follow your career?

My Biology teacher at school; he was incredible and sadly died at the same age I am now.

What was your favourite subject at school?

Biology—how life works

What did you want to be after you left school?

Veterinary brain surgeon

Were you ever in trouble at school?

Yes—for being late! I'm naturally a night owl and society hasn't learnt to cater for my clock yet.

If you weren't doing this job, what would you choose instead?

Food critic—if I've got this right, someone else pays for your food and then pays you to eat it...

Who is your favourite singer or band?

Anything I can destroy at the top of my lungs (on my own, in the car). I love Madness, soul, South American pan flute, Argentine tango music, Evanescence, and Radiohead.

What's your favourite food?

There's a very special baked good from the North East of Scotland called a 'rowie' aka 'buttery' aka 'morning roll' - you'll know what I mean when you try it

What is the most fun thing you've done?

Skydiving in Australia and watching the birds fly beneath me—a bird's eye view of a bird is weird!

If you had 3 wishes for yourself what would they be? - be honest!

(1) To make a discovery that has a lasting impact on human and animal health (2) to be fluent in another language overnight (3) to be able to time travel (or control time so I can make my chronotype fit better with the planet I was born on!)

Tell us a joke.

When you call a dog it comes running; when you call a cat it takes a message
My profile link:
https://ias.im/u.212951
---
---
---
---