Profile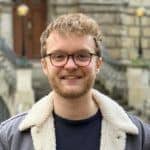 William Glass
Some great questions so far from students, looking forward to the next session!
My CV
Education

Preston School / Yeovil College, Cardiff University, University of Oxford

Qualifications

A-Levels (Physics, Chemistry & Maths), MChem Chemistry, MSc Theoretical and Computational Chemistry

Current Job

Employer
About Me:

I've just finished my PhD in the field of computational biophysics. That's a bit of a mouthful but basically I use (very big) computers to simulate tiny biological machines called proteins.

My Work:

In my research I use computer simulations to see how tiny molecular machines in your body, called proteins, work.

Read more

Inside your body there are tiny machines made up of molecules called "amino acids". These molecules come together in different combinations and lengths to make all sorts of different 3D machines called proteins. Proteins are responsible for all sorts of processes in the body – from sensing heat to allowing us to think!

Scientists can use state of the art imaging techniques to take "pictures" of these proteins so we can understand their structure. Although this can tell us a lot about how they work we only have this static image and in your body these proteins would be moving around! Unfortunately it is hard to see these proteins moving in the lab so I use computer code and simulations to make protein "movies". Once we have these movies we can understand how different parts of the protein move. This is really important as it allows us to undertand how they may behave in the body and it gives us clues as to what drugs (small molecules, like paracetamol!) could bind in the 3D structure and alter how it functions.

To make these "movies" I use very big computers to run code on. These computers usually cost a lot of money but they have a lot of the same parts you would find on your own computer. We link all of these computers up so that we can run our simulations for longer and on bigger systems to answer all sorts of questions in biology.

My Typical Day:

Coding, setting up simulations, data analysis and meetings!

Read more

Since all of my work is computational my typical day is spent in front of a computer. I was always terrible at practical work in my undergraduate degree and I think it's safer for myself (and others!) that I'm not in a wet lab these days. In my work I build models of proteins (the molecular machines in your body that carry out all sorts of different functions) from crystal structures obtained from experimental scientists. I then use different bits of software and code to simulate how these proteins act in their normal environment (i.e. not locked up in a static crystal!). My 'typical day' would include setting up and running simulations, writing code (e.g. the Python programming language) to analyse results, reading the papers and attending any relevant meetings or seminars.
My Interview

What or who inspired you to follow your career?

All sorts of people, far too many to list here!

What was your favourite subject at school?

I enjoyed all of the sciences and maths.

What did you want to be after you left school?

To be honest I had no idea, I just kept studying the subjects that interested me!

Were you ever in trouble at school?

I was ALWAYS moved for talking too much!

If you weren't doing this job, what would you choose instead?

Hmm, I've always enjoyed history so probably something related to that...

Who is your favourite singer or band?

All sorts, my music taste is all over the place.

What's your favourite food?

I'm not sure I have one!

What is the most fun thing you've done?

Spending a whole summer travelling on my own (and not getting lost!).

Tell us a joke.

I think it's best for all of us that I don't.
My profile link:
https://ias.im/u.194259
---
---
---
---